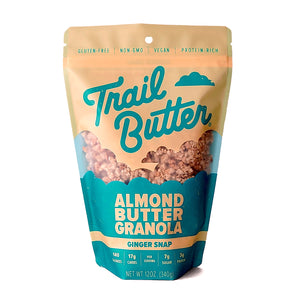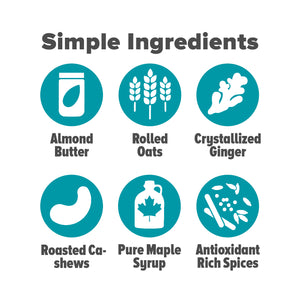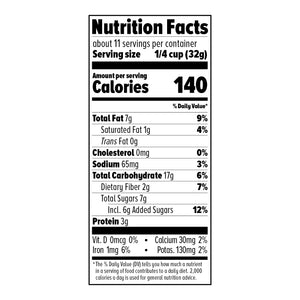 Product image 1
Product image 2
Product image 3
Product image 4
Product image 5
Enjoy a bulk serving of Trail Butter Almond Butter Granola with our Big Crunch 12-ounce bag.
Ginger Snap almond butter granola is packed with anti-oxidant-rich spices and tasty morsels of crystallized ginger that your tastebuds won't forget. So good. So so good. 
Trail Butter Almond Butter Granola was created by Ma Boggs, mom to TB founders Jeff & Brad, and became such a hit at HQ, we decided to offer it to you too! This delicious take on a classic treat delivers a boost of plant protein that will keep you going for the long haul, on and off the trail. 
Ingredients
Ingredients: Rolled Oats, Almond Butter, Maple Syrup, Cashews, Crystallized Ginger (ginger, cane sugar), Avocado Oil, Maple Sugar, Vanilla Extract, Sea Salt, Turmeric, Cinnamon, Ginger, Black Pepper, Cloves
Contains: Almonds, Cashews. Made on shared equipment with peanuts, tree nuts, wheat, soy, and dairy. Product meets FDA standards for gluten-free foods.  
This granola is gluten-free, non-gmo, and vegan
"GRANOLA MIND BLOWN! Seriously the best granola I have ever had!!! Bravo!!!"
'I'm not even a fan of granola...my wife convinced me to try it and now I'm hooked. '
"It's absolutely incredible. I've bought, made, and eaten a lot of granola, and this recipe is dialed in!!'