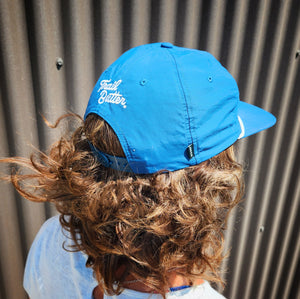 Product image 1

Product image 2

Product image 3
Product image 4

Rope up and 'Send it!' with Trail Butter's new 'Dope Rope' technical cap!
Featuring our signature 'trailscape' design via an embossed patch, the 'Dope Rope' hat is just really, really cool. 
And, it'll keep you cool and protected from the sun all year long, thanks to it's breathable, moisture-wicking fabric and flat brim. 
With the 'Dope Rope' hat on, you can go straight from the trail to happy hour - in style.
Available in Marine Blue.