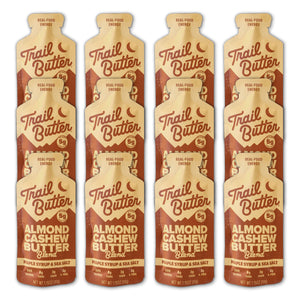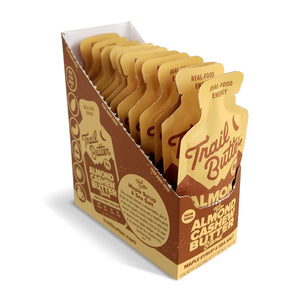 Product image 1
Product image 2
Product image 3
Product image 4
Product image 5

Product image 6
Lil' Squeeze 2.0 sports a tapered neck for ease of consumption while on-the-go!

Silky-smooth almond, cashew butter, plus a drizzle of real maple syrup and a healthy pinch of sea salt equals a match made in taste bud heaven. Enjoy this healthy treat on its own or squeeze over apple wedges, oatmeal or an energy bar for a protein-rich, nutrition boost.
Winter-friendly! Squeezable at low temperatures!
INGREDIENTS
Ingredients: Almonds, Cashews, Avocado Oil, Pure Maple Syrup, Sunflower Lecithin, Sea Salt, Ground Vanilla
Contains: Tree Nuts (Almonds, Cashews) 
This blend is non-GMO, soy-free, paleo-friendly, and vegan
"Trail Butter goes with me everywhere, delicious, nutritious and delicious...yes, it's doubly delicious."
Gary Robbins
Ultrarunner, Race Director
"Trail Butter fuels me and my pup for our long runs around the Chuckanuts!"
Krissy Moehl
"Trail Butter has fueled most of my long runs, races, and adventures since 2012 when I was first introduced to it! There is nothing else like it!"
Jacob Puzey