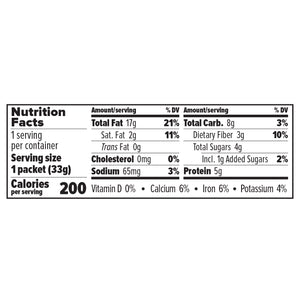 Product image 1

Product image 2

Product image 3

Product image 4

Product image 5
Product image 6
Lil' Squeeze 2.0 sports a tapered neck for ease of consumption while on-the-go! 
Rich, decadent flavors of dark chocolate and coffee collide to create this bold, lightly caffeinated almond butter blend that is sure to both please and energize for the long haul. Enjoy straight from the pouch or squeeze over other snacks for added flavor and nutrition.

Winter-friendly! Squeezable at low temperatures!
INGREDIENTS
Ingredients: Almonds, Dark Chocolate (unsweetened chocolate, cane sugar, sunflower lecithin, vanilla), Avocado Oil, Honey, Ground Coffee, Sunflower Lecithin, Sea Salt, Ground Vanilla.

Contains: Tree Nut (Almonds)
This blend is non-GMO, soy-free and paleo-friendly
15mg caffeine per serving
"Trail Butter fuels me and my pup for our long runs around the Chuckanuts!"
Krissy Moehl
"I actually don't remember the last day I didn't eat Trail Butter; not only is it my go-to pre-race fuel, it's my go-to pre-long run fuel, pre-workout fuel, and just a really tasty all-around snack!"
Sean Meissner
Race Director, Outdoor Athlete
"I love having Trail Butter when I travel because I never have to worry what I am going to eat before an important run or race. Not only is it delicious, it is convenient whether traveling overseas or camping on a mountain top, and I know that it will give me the energy that I need to perform my best."
Maria Dalzot